Welcome!
Thank you for visiting our website.
Kimmel, Lorah & Associates, LLP is a full-service CPA firm dedicated to serving clients since 1946.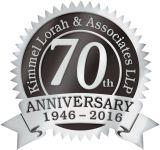 Since inception, Kimmel, Lorah & Associates, LLP has been providing high quality auditing, tax and consulting services to individuals and businesses. Our practice consists of Privately Owned Businesses, Construction/Real Estate Companies, Not-for-Profit Organzations, Private Foundations, Local Governments and Municipal Authorities, Employee Benefits Plans, Professional Services Corporations/Partnerships and CPA Firms.
Feel free to contact us at any time:
Telephone...
(610) 666-0450
Mailing Address (See Directions for Driving Address)
Kimmel, Lorah & Associates, LLP
P.O. Box 979
Oaks, PA 19456